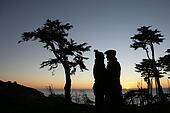 If I could make a dream come true,
that dream would be to be with you!
To lay down with you every night,
and wake up with you at my side!
Met at the door after a hard days work,
a kiss a hug and love you'd assert!
I'd walk down the streets with you on my arm,
protecting you from any and all that would harm!
We'd ride on a sled in the midst of Winter,
while the snow is falling in all it's splendor!
Play in the grass on a fresh Spring day,
picking Wildflowers all the way!
We'd walk on the Beach in the wet sand,
on a warm Summer night while holding hands!
We'd wonder the colors of the Autumn leaves,
and take pleasure in the scene they achieve!
Every Season we travel through life together,
our love for each other will not but grow stronger!
I'd shower you with love from within my heart,
until the end of time we'd not be apart!
Duke Sherman