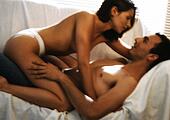 I want to love you all the time,
and know that you're only mine!
Make love to you 'til the daylight,
bodies caressing through the night!
Desire burning within our hearts,
knowing we'll never be apart!
Breathing love into our souls,
gentle strokes maintain control!
Wanting it to last forever,
soon we'll climax with each other!
We'll rest and cuddle for awhile,
then we'll kiss and recompile!
Each time is better than the last,
and leaves us a feeling of aghast!
Never wanting the night to end,
we'll cover the windows to extend!
Love so sweet we keep on going,
daylight comes and we're unknowing!
Doesn't matter for we're in love,
there's nothing more that we care of!
The day we'll spend resting for the night,
and again make love 'til the daylight!
Duke Sherman