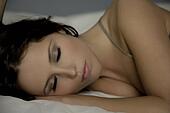 As I lay next to you at night,
I can see a bright light!
It's as bright as can be,
brighter than I've ever seen!
It's the light of God's sweet love,
and it's coming from Heaven above!
It shines upon you in sleep,
because your soul he does keep!
He has his Angels watching over you,
because he loves you too!
Your so beautiful laying in my bed,
I thank God it's you he gave me to wed!
You're the kindest and most loving of all,
and you make me feel life and stand tall!
I'll love you 'til the end of time,
and always be proud that you're mine!
I don't want to sleep sometimes at night,
'cause I don't want to miss that beautiful sight!
Duke Sherman