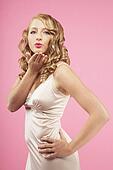 I love when you,
call me your Boo!
It makes me feel special,
like getting a Gold Medal!
And when you run your fingers through my hair,
and whisper sweet nothings in my ear!
These things tingle my every desire,
and all my sensations begin to transpire!
My heart begins to beat at the rate of locomotion,
and you tickle my emotions!
And when you wink at me and blow me a kiss,
the thought of having you I can hardly resist!
At night when you lay next to me,
I know I'm the happiest man that could be!
It' the little things that you do,
that makes me want and love you!
I love you now more than ever,
to choose another I wouldn't endeavor!
Duke Sherman