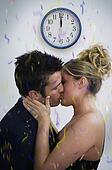 Soon the "New Year",
will be here!
Time to forget the past,
and look forward to what,
will come to pass!
The night skies will illuminate,
with bright,
and beautiful lights!
We will all forget the "Old Acquaintance".
And sing ""Auld Lang Syne"!
We'll give Repentance,
All friends of mine!
We'll have some Champaign,
and feel no pain!
Bring in the New Year,
and throw out the old!
We'll no longer fear,
from the old Year!
And when the lights go amiss,
we'll give our girls a kiss!
All of us renewed,
no longer will we feud!
We'll live in peace,
all fighting will cease!
Happy New Year My Friends!
Duke Sherman