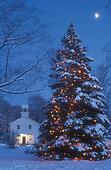 Ole' Christmas Tree,
my Christmas Tree!
Your lights so bright,
they light up the night!
So beautiful you are,
on top a shining star!
Gold-and Silver tinsel,
on your branches hang!
The bells do jingle,
the ornaments overhang!
Red-yellow-green,blue,
so beautiful are you!
Your green fir,
does it domineer!
So fresh smells the pine,
newly cut from the timberline!
What a lovely sight,
to be admired this Christmas night!
Duke Sherman