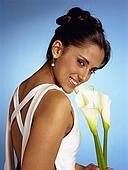 I went out with a girl the other night,
I've never seen a more beautiful sight!
She hails from a from a place called Santa María,
sweet is her name Adoncia!
She's beautiful and sexy with allot of class,
memories close to my heart that'll last!
Her eyes dark and Majestically exotic,
and to watch her walk was hypnotic!
Her skin is brown and she has black hair,
the prettiest Latina I've seen anywhere!
We danced and drank Tequila through the night,
we didn't get home 'til Dawns early light!
She cooked me breakfast-Tortillas and beans,
surprisingly the best I've ever eaten!
I held her in my arms and kissed her Adiós,
this weekend we're flying down to old Mexico!
Duke Sherman