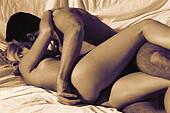 It's you my love I dream of every night,
until the morning sun shines it's light!
I think of you before I sleep,
and in my thoughts you I keep!
My love for you is much and true,
and over the years it's only grew!
My soul without you would surely cry,
and my life would stop and die!
I love you more than all could be,
and am glad you said I do and married me!
It's been like Heaven to be with you,
and I'll never stop loving you!
Duke Sherman