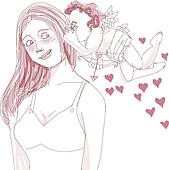 Cupid's coming to visit again!
St Valentine has sent him to us,
to fill our hearts with true love!
His arrows are quite straight I say,
he'll not miss his target today!
There's no need to be afraid of him,
with his help someone's heart you'll win!
So have a dozen Red Roses ready,
Make sure you hold on to her,
treat her special through the years!
Tell her you love her every day,
and show her in every way!
And always remember to take the time,
to thank Cupid and St Valentine!