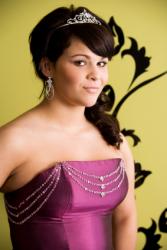 The other night I seen a picture,
it made me remember!
You were just seventeen,
just crowned Prom Queen!
So beautiful you were that night,
standing in the spotlight!
Silver tiara sitting on your head,
'twas that night I knew we'd wed!
Tears of joy flowing down your face,
that tiara could've found no better place!
In you arms were three dozen roses,
I'd never seen such loveliness!
I remember that night with clearness,
memories of much happiness!
I've loved you since the first day we met,
never have I've had a regret!
You're still as beautiful as I remember,
that night to you my heart surrendered!
I love you!
Duke Sherman