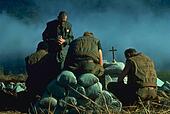 Dreams are an extension of our memories,
they act as a projector of our fantasies!
Things we've seen or thought about,
some we're proud of and some we're not!
Fantasies of things like a child's afraid of,
like the story of the man eating Magamba!
Some fantasies are rated "Triple X",
we've all experienced dreams of sex!
Some are caused from overeating,
some are caused by a childhood beating!
It's like going to a free picture show,
with an empty portfolio!
Fantasies can be good or can be bad,
can make us happy or feel very sad!
Some can scare us almost to death,
those are the ones that prevent our rest!
For me it's the latter and it brings me much fear,
I've been known to awake in tears!
I don't rest well and I get little sleep,
I'm a Vietnam Veteran with PTSD!
I stay awake most every night,
thinking about my past until the daylight!
I think about my time in "The Nam",
and my friends that never came home!
Their names are engraved on the "Wall",
my friends were Heroes one and all!
The effect of the war is taking a toll on me,
but I know I helped keep my Country free!
I'd do it again and die for her today,
may God Bless The U S A!
Sgt Duke Sherman
"Let's Go!"
G-Troop, 2/11 ACR
Black Horse Soldier
Vietnam Veteran