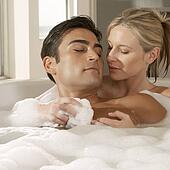 I truly do believe,
you are my life's destiny!
Before you my heart was cold,
To the Devil my soul was sold!
Like an Angel you ended my pain,
and helped me my soul to regain!
You've taught me love's true meaning,
now in my life happiness is streaming!
I never knew for me a future could exist,
until the magic of that first kiss!
Since that magical and enchanting day,
my love for you has grown in every way!
You've brought light where darkness use to be,
and shined your Heavenliness on me!
It guided me down the path of what could be,
and filled my heart with love and harmony!
You have given me what I could never see,
and started me down the road of my destiny!
Now my soul is Heaven bound,
on earth an Angel I have found!
You have showed me how to live life well,
no longer am I bound for Hell!
If I sleep and die before I wake,
I know that God my soul he will take!
I pray and thank him every day,
for sending you my way!
My life on earth you have made complete,
from your sweet love I will not retreat!
You taught me to know love so true,
but best of all I fell in love with you!
Duke Sherman