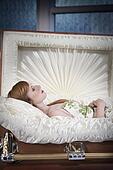 I wish I could turn back time,
to a distant memory of mine!
San Francisco South,
at the City's mouth!
A place called "The Spot",
"Stairway" to Heaven on the Box!
I had just turned twenty-one,
I was with a girl named Kaylan!
Kaylan was from Park Place,
and the image of Princess Grace!
She was such a beautiful girl,
with her I could've conquered the world!
She always made me feel so alive,
if she had lived she'd be my wife!
I'd turn back time to that night,
and history I'd rewrite!
That Drunk Driver who took her life,
wouldn't had been allowed to drive!
I remember him leaving the bar,
Barkeep didn't take the keys to his car!
He was arrested but did no time,
he paid no price for his crime!
Her life was taken so very young,
she too had just turned twenty-one!
Kaylan's been gone twenty-seven years,
when I think of her I still shed tears!
I miss her and keep her in my heart,
there it'll stay 'til death will I part!
Duke Sherman