A Grave Site Talk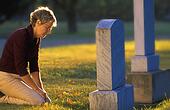 My Darling;
It's been a great many days,
since that Cancer took you away!
But my memories of our being together,
will last forever!
A friend asked about you today,
and I really didn't know what to say!
Tears filled her eyes as I gave her the news,
she'd been planning to visit you!
I miss you my Darling with all my heart,
being without you has torn me apart!
You were my life and everything to me,
without you there's no longer a future for me!
We spent almost twenty years together,
and there could've been no life better!
Now I visit and talk to you at your grave,
and afterwards to God I'll pray:
"Lord she was everything to me,
and when I die: With her-please let me be?
But while still on this earth I'll not love again,
and love her until my life ends"
Amen!
So when the time comes my love,
I"ll see you again in God's Kingdom above!
I Love you!
Duke Sherman