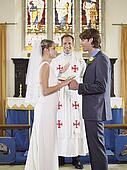 My intentions are honorable,
and our is future formable!
I promise to love you more every day,
away from you I'll never sway!
I'll cherish, love, and give you my best,
and all that I have is yours to posses!
I'll protect you from all that is bad,
and comfort you when you're sad!
You're my sun in the day, my moon in the night,
you're the light that guides the path of my life!
You're why my heart beats and I breath air,
without you Darling my life's just not there!
For better or worse and in sickness and health,
I'll remember my vows and give all of myself!
Without you my life would be a bliss,
I've know that from our very first kiss!
Now on this our Wedding day,
I promise to love you in every way!
You're my heart and will always be,
the better part of me!
Before God I make this vow,
my life to you I do endow!
Duke Sherman