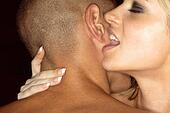 I love when I hear,
sweet nothings whispered in my ear!
And when she breathe's down my neck,
on fire my heart and soul is set!
I tremble with the feeling of delight,
and the thought of the rest of the night!
She runs her fingers up and down my skin,
and goosebumps and tingles begin!
My heart begins to beat so much faster,
with the thought of what comes after!
The warmth of her body next to mine,
is so Heavenly Divine!
And when we cuddle after all is done,
she says: She loves me and I'm the only one!
I am full of love and happiness with this girl,
and am the luckiest man in the world!
Duke Sherman